When we first entered Assembly Hall, it was teeming with positive energy. Several couples and groups of three were chatting and working comfortably in the back of the café, where a green-tinted wall accented the smooth, wooden interiors. Baristas paced behind the counter, calling out orders while greeting new customers eager to find their own seats in the space.
And at the centre of the buzzing energy stood owner Harvey Alumisin. He chatted with a customer as he served their drink and stayed for a couple of seconds to chat, before heading back to the bar to greet us.
"I always envisioned having my own coffee shop and a cocktail bar," shares Harvey, as we move from the long tables at the center of the cafe to a quaint corner overlooking the business district to allow a group that had just come in to be seated. "But I also wanted to have a place that would speak for itself, and Assembly Hall grew out of that desire."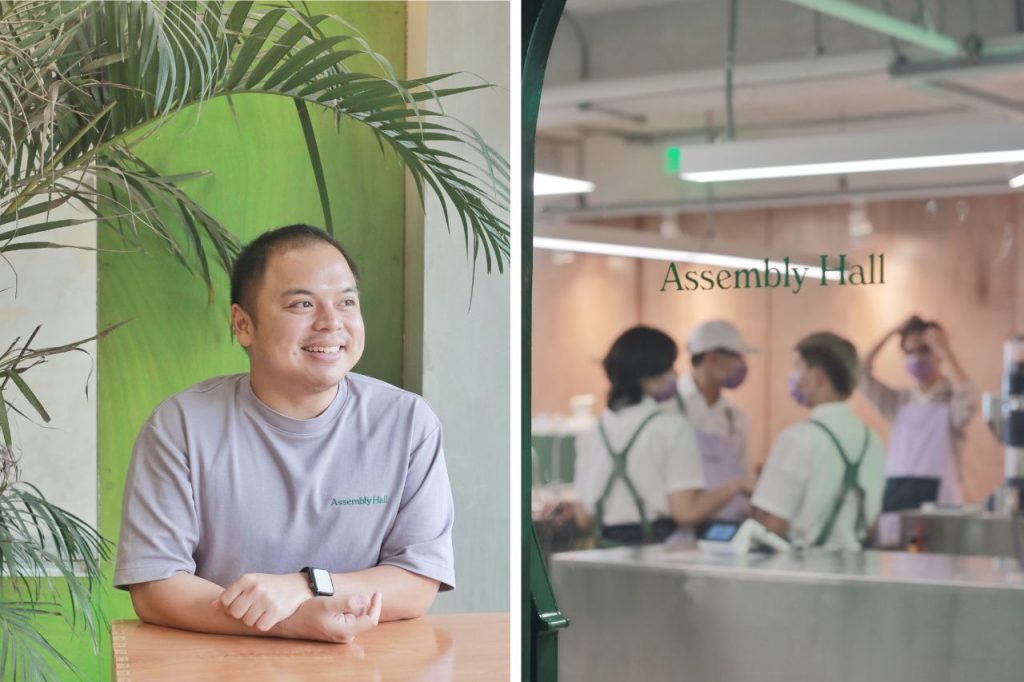 Assembly Hall is located on the second floor of the HMA 773 building along J.P. Rizal. Within the same building is Harvey's corporate office, where he manages his outsourcing business as his 9 to 5. But the balancing act of running several businesses at once is something Harvey wasn't unprepared for. He was merely waiting for the right time, and now that it's here, he's more ready than ever to make sure that the coffee shop and space he envisioned years ago as a budding entrepreneur comes to fruition with Assembly Hall.
As you make your way inside the café, past the staircase of gold-plated mirrors that lead you up, there's a neon sign inviting you to "Good Coffee Ahead." The coffee comes in a simple menu of familiar coffee drinks engraved on a mirror.
Follow @assemblyhall on Instagram
But perhaps the most striking part of its interiors is how sunlight easily streams into the shop through the tall glass windows, creating a relaxed, welcoming atmosphere inside. And the view is spectacular – one of more calming scenery of a residential area and its tree-lined streets.
For Harvey, having a functional space that's easy on the eyes is vital to making customers stay.

"Ideas really come from need. And I noticed that there were very limited options in Metro Manila, and particularly in our area here in J.P Rizal, where people can work or do what they're passionate about. I wanted to provide a space that's accessible."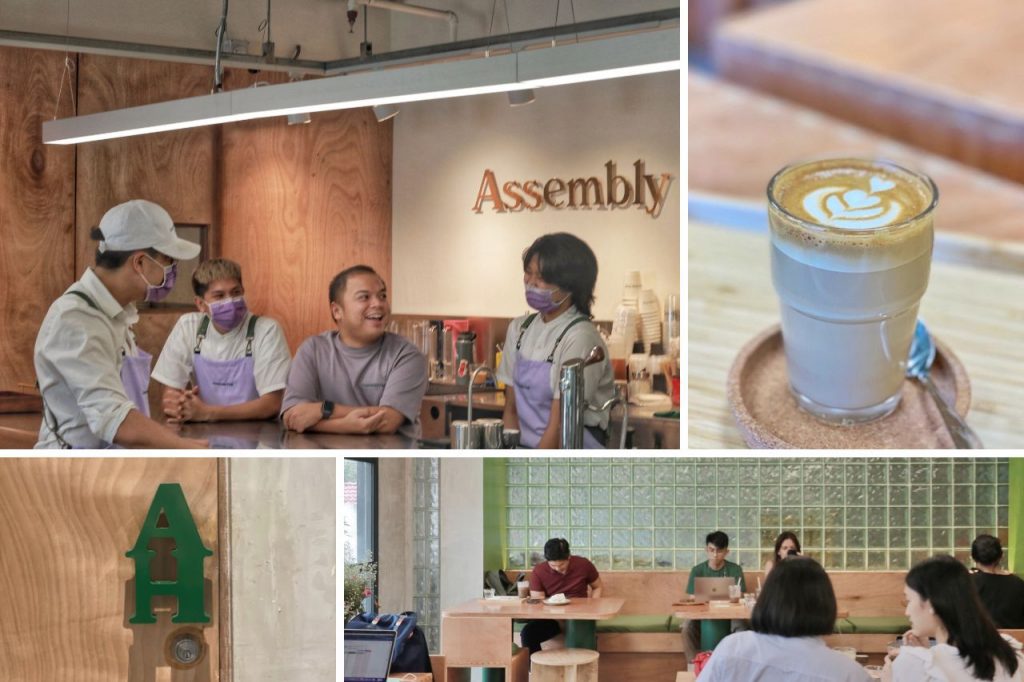 "Some people think I do things on a whim, but that's not true. Before I execute anything, I've thought about it a thousand times, thought through everything from Plan A to Plan Z, and weighed the pros and cons," he explains.
Thorough and detailed as it may sound, the plan to make Assembly Hall happen took off in just 24 hours.

"I was just excited at the prospect of being able to offer something that the market needed and having the space to do it. After that experience in February, I called my best friend, who is now also my business partner, and presented the idea to her, and the next day we were already making moves to turn this project a reality and looking for consultants and collaborators," he says enthusiastically.
Assembly Hall is managed by Harvey and his three partners – Mica Ting, Jay Wijesekara, and Tonet Quiogue. "The four of us are all trying to navigate this new endeavour together, but the relationship works because of trust. We know who we are, and we have a clear vision for the brand that we want to achieve together."
Read What is Branding and Why it's Important

When speaking with Harvey, there's a passion that's palpable. His aura is joyful and inspiring, and it carries over into the way he speaks and moves around the cafe. He asks his customers what they think of the coffee and pastries; he isn't shy about hearing their thoughts. He communicates with his staff and ensures they're at the top of their game just as much as he is.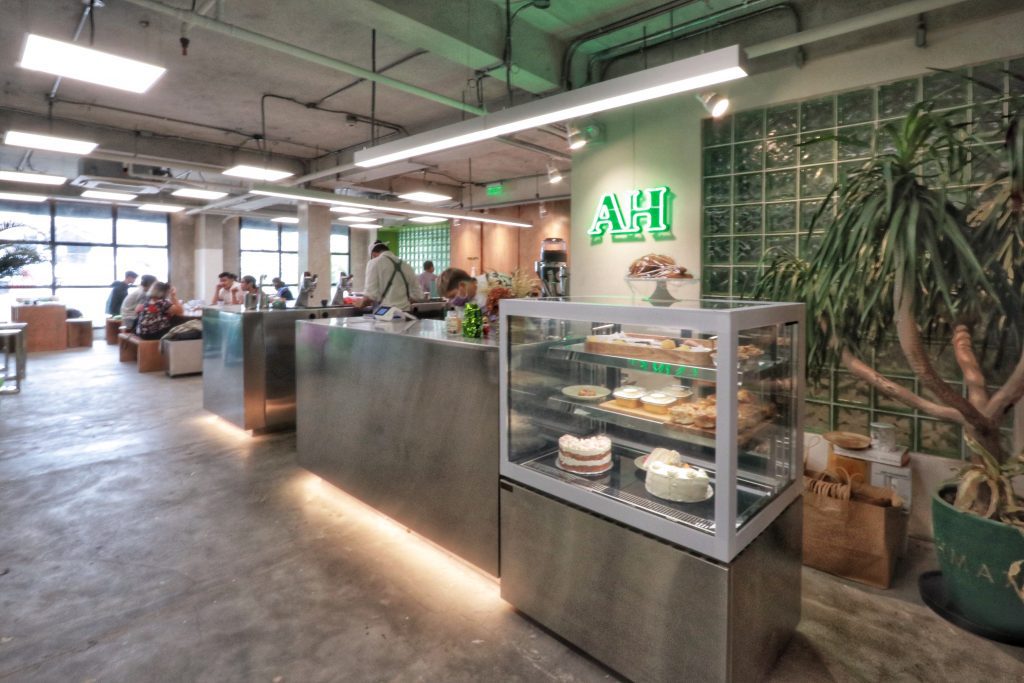 "Our clincher is the experience and quality of service we can provide. The vibe – you just can't replicate that. It's not something you can take from Pinterest, but it's the soul of this place. When I hear people's comments online about how nice the baristas are, how great the ambiance is, not to mention how good the coffee is – I know we've done our job."
When asked for advice he can give to young entrepreneurs, he'd a simple summary statement. "You have to be completely sure of yourself, your vision, and your project. I don't like to compare. I don't like to compare myself to what others are doing because, at least for me, it clouds the vision. I don't want to lose focus on the direction I set out to go."

We're excited to share more emerging founders, creatives, and artists updates. Stay tuned!
Keep in touch @mnwstudios on Instagram